"RCR" Welcomes Scrap bookers!
Welcome Scrap bookers to our three home estate "escape" on Maryland's Eastern Shore. RCR offers you a unique setting to host your next scrap booking weekend event – a place to spend 24/7 being creative, cropping, and having a great time – away from children and life's distractions. The location is incredible - 250 acres of private, pristine waterfront property right on the Chesapeake Bay.
If you go to the "Building Layouts" link on the homepage, here on our website, it shows you a complete layout of all the rooms in each house, plus the size of each bed in all the bedrooms. This will make it so easy for you in figuring out who sleeps where.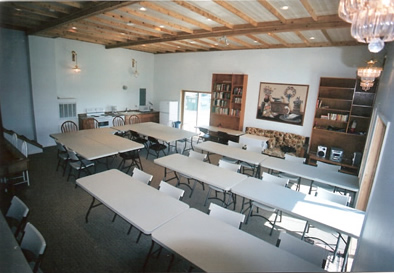 Our estate sleeps 34+ people. The meeting "cropping" room (in the Fun Center) can fit 15-17 six foot tables. If you put two ladies at each table you can fit 30-34 scrap bookers. We will provide all 6 foot tables and chairs needed at no additional cost to you. The meeting room has a newly constructed large kitchenette for storing food and drinks, for those who don't want to stop cropping.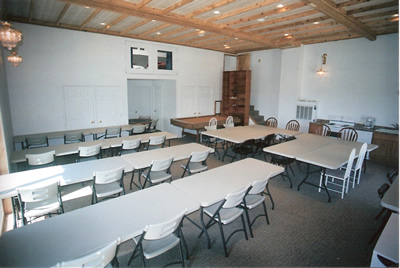 We have a large second floor loft above the meeting room where you could set up two more 6 foot tables for cropping. With these two extra tables you can fit 38 ladies in the Fun Center facility, – where everyone can be together in the same building.
Arrival time is 3pm but you may be able to get in earlier to set up. Extended departure time is available, as needed. Our goal is to be very flexible and accommodating with you and your group, to do the best we can to meet your needs.
Regarding catering: The little town of Fishing Creek, just 5 minutes away, has a restaurant that offers catering. Also the supermarkets in Cambridge will prepare platters but someone would have to pick it up from the market. There is also a county store deli in Fishing Creek that makes sandwiches and such.
As you've read on our website, RCR has been completely renovated from head to toe. The RCR estate is ready to accommodate your group for a get away weekend, of scrap booking and sharing memories that come to mind while cropping pictures of loved ones. We look forward to hearing from you.

Blessings,
Marie & Percy Ransome